Welcome to the web page of the Honorary Consulate of Romania in Riga, the fine capital city of Latvia. The mission of the Consulate is to foster political, economic and cultural ties between Romania and Latvia, provide assistance to the Romanian community in Latvia, and offer useful information to Latvians looking to learn more about, visit, or do business with Romania.
The Honorary Consulate is very closely connected to the Embassy of Romania accredited to Lithuania and Latvia with the residence in Vilnius.
Furthermore, it is closely cooperating with the Bilateral Chamber of Commerce of Romania and Latvia, opening new doors for the economic growth within the two countries, as well as new business opportunities.
We welcome to the Consulate any citizen of Romania and Latvia with ideas of improvement of our peoples ties, be it through tourism, cultural or economical exchange.
Ileana Adriana Rutman, Honorary Consul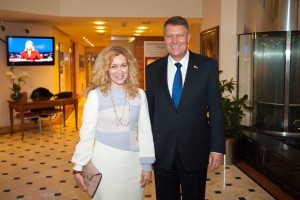 Ms. Ileana A. Rutman together with the President of Romania H.E. Mr. Klaus Iohannis in Riga.